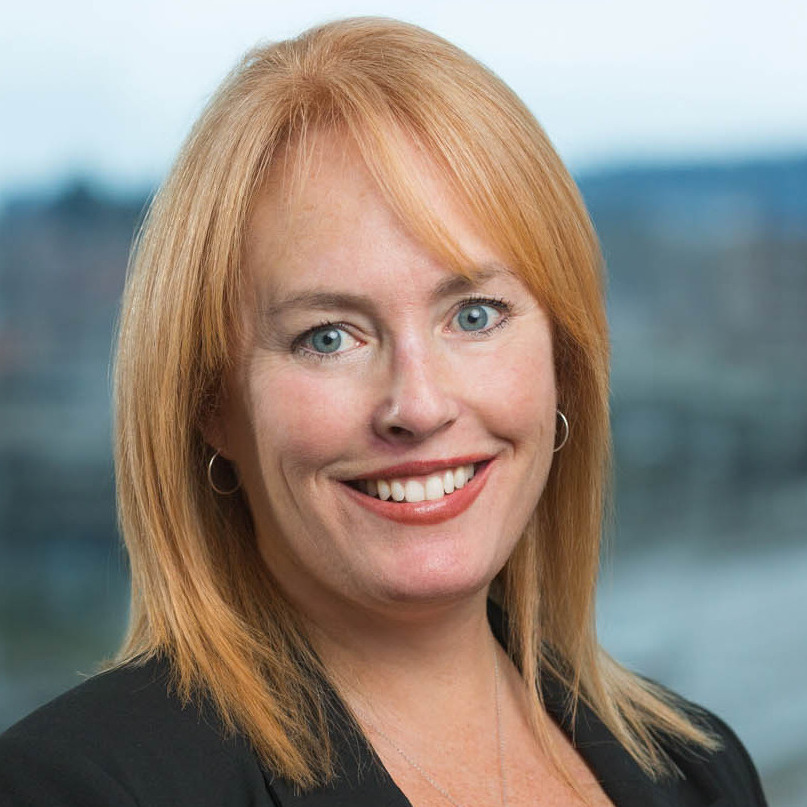 Tara J. Schleicher
Shareholder, Commercial Bankruptcy & Insolvency Chair
Bank of America Financial Center
121 SW Morrison Street, Suite 600
Portland OR 97204

503.228.6044
tschleicher@fwwlaw.com
Practice Areas
Banking & Finance
Bankruptcy & Creditors' Rights
Litigation & Dispute Resolution

Practice Summary
Tara is a tough negotiator and skilled litigator who knows how to balance clients' business interests with legal needs to save time, effort, and business capital. She protects clients' interests in all types of bankruptcy, insolvency and litigation matters. Her clients include business debtors in need of restructuring; financial institutions, loan servicers, businesses, receivers, bankruptcy trustees and unsecured creditors' committees.

With a Master's Degree in Business Administration and certified as a Business Bankruptcy Specialist by the American Board of Certification, Tara has the business acumen necessary to effectively handle complex litigation, Chapter 11 reorganizations, receiverships, workouts, and any insolvency related matters. She is also a board member of the Turnaround Management Association.

She enjoys Chapter 11 cases and litigation because of the variety of industries, business issues, and competing interests involved. Tara correlates restructuring a business with solving a big puzzle: lots of little pieces of different shapes and sizes that need to fit together to make the business successful again.
Representative Matters
Business and Finance Litigation

Business and Financial Institution Litigation and Loan Servicer Defense - Regularly represents businesses and financial institutions in all types of litigation, including debtor/creditor disputes, employment matters and contract disputes. Tara also regularly represents financial institutions and loan servicers against claims by borrowers and consumers challenging non-judicial and judicial foreclosures, assertions of Fair Debt Collection Practice Act (FDCPA) claims, Fair Credit Reporting Act (FCRA) claims, and Real Estate Settlement Procedures Act (RESPA) actions.

Protection of Creditor's Assets in Insolvency proceedings and litigation - Represents creditors in Chapter 11 proceedings and all types of bankruptcy and litigation to protect their interests in commercial collateral, including real property, fixtures, and associated personal property.

Representation of Receivers

Represented Receiver and Served as Successor Receiver - Represented Receiver Peter McKittrick in Pac Equities, Inc. case in pursuit of assets and sale of same for benefit of creditors in estate with $17 million of claims and approximately 80% recovery. Took over as Receiver in the case in January 2015.

Wind Down of Business - Represented Receiver in wind down of nonprofit Cascade Sierra Solutions, Inc. with a significant portfolio of commercial truck leases and sale contracts for benefit of secured creditors and unsecured creditors, including the U.S. Environmental Protection Agency.

Defended Receiver's Right to Sell Real Property - Represented Receiver and successfully defended Receiver's right to sell commercial real property (three gas stations and convenience stores) for the benefit of interested parties.

Represented Receiver in $13 Million Securities Fraud Case - Represented Receiver in case where defendants had been indicted in a $13 million securities fraud case. Duties included assisting Receiver with locating and selling assets, coordinating and managing litigation claims, seeking declaratory judgments regarding ownership of receivership estate property, reviewing fraudulent transfers, and obtaining contempt order against individual defendants for violations of orders.

Representation of Creditors' Committees and Special Committees

Recouped Buy-In Fees for Assisted Living Residents - Assisted group of residents at assisted living center in bankruptcy/receivership proceedings to recoup the hundreds of thousands of buy-in fees they had paid to the debtor pre-petition.

Negotiated Settlement and Viable Plan of Liquidation to Benefit Unsecured Creditors - Represent creditors' committee in Chapter 11 involving a building products company with nearly $57 million of debt and extensive multi-state operations/assets. Assisted committee in negotiating a sale of the bulk of the estate's assets and negotiating a settlement with major lenders and debtor regarding a viable plan of liquidation of remaining assets that will benefit unsecured creditors.

Sale of Assets and Protection of Warranty Claims - Represented group of aircraft owners as an Ad Hoc Committee in Chapter 11 involving an aircraft manufacturing company with approximately $52 million in unsecured debt. Assisted Committee in negotiating terms of a sale of the Debtor's assets to protect the Committee members' warranty claims/interests and for the provision of sufficient after-market support.

Full Recovery Plus Interest for Unsecured Creditors - Represented creditors' committee in Chapter 11 case involving three debtors engaged in publishing, book manufacturing and commercial printing. Assisted committee in negotiating a plan of reorganization that paid unsecured creditors in full, with interest.

Negotiated Plan Paying 80% of Unsecured Claims - Represented creditors' committee in Chapter 11 individual debtor case of restaurant owner/manager/consultant. Assisted committee in negotiating a plan paying approximately 80% on unsecured claims.

Representation of Bankruptcy Trustees

Recovered Undisclosed Assets for Benefit of Unsecured Creditors - Assisted the Chapter 7 trustee to obtain an ex parte temporary restraining order and, with assistance of the U.S. Marshall's office, searched and seized multiple properties of the debtor to recover significant assets for the benefit of unsecured creditors.

Multiple Adversary Proceedings to Recover Funds for Unsecured Creditors - Represented Chapter 11/7 trustee in bankruptcy proceeding of agricultural cooperative; obtained summary judgment that purchasers of debtor's frozen foods/canning operations were not entitled to administrative expense priority for vacation pay paid to employees pursuant to collective bargaining agreements; successfully represented trustee in adversary proceeding for declaratory judgment that Perishable Agricultural Commodity Act (PACA) claims of growers were invalid.

Representation of Debtors

Refinance and Redevelopment of Real Property - Represented developer in Chapter 11 proceeding involving a private condominium and marina project. Successfully defended judgment creditor's motion for relief from stay and obtained an order confirming Chapter 11 plan allowing debtor to refinance and redevelop the property for high-end apartments.

Successful Business Reorganization - Represented business in a Chapter 11 case where debtor is one of the top cabinetry companies in Central Oregon for both commercial and residential construction; obtained confirmation of plan after negotiations with secured creditor/former shareholder and governmental authorities.

Confirmation of Plan in Hotly Contested Chapter 11 - Represented Chapter 11 Debtor with $232 million in claims to reorganize business in highly regulated environment; Chapter 11 plan confirmed; obtained preliminary injunction after contested hearing against 35 state governments prohibiting them from removing debtor from state directories of authorized tobacco product sellers.

Successful Business Restructuring - Represented Chapter 11 Debtor with approximately $13 million in debt and obtained confirmation of plan after contested confirmation hearing allowing debtor to reorganize and continue selling high-end condominiums on the Willamette River.
Education
Willamette University College of Law (J.D. cum laude, 1995)
Willamette University (Master's Degree Business Administration, 1995)
Oregon State University (B.S. Journalism, 1990)
Admissions
Oregon State Bar
Washington State Bar
U.S. Bankruptcy Court
District of Oregon
Western District of Washington
Eastern District of Washington
U.S. District Court, District of Oregon
U.S. Court of Appeals, Ninth Circuit
Associations
American Bankruptcy Institute
Turnaround Management Association, Board Member
Risk Management Association

Awards
Martindale-Hubbell AV® Preeminent™ 5.0 out of 5 Peer Review Rated
Selected to the Oregon Super Lawyers list since 2008 in bankruptcy law
As an additional mark of distinction named to the 2014 - 2016 Top 25 Women and the Top 50 Oregon Super Lawyers lists for receiving the highest point totals in the Oregon nomination
Selected by her peers for inclusion in the
Best Lawyers in America
® 2016 - 2019 for Litigation - Bankruptcy and Creditor Debtor Rights/Insolvency and Reorganization Law
Speaking Engagements
Tara presents seminars on topics such as bankruptcy, creditors' rights, estate planning, and probate, and is a frequent speaker for the National Association of Credit Management Oregon.